Isn't this the cutest thing? My friend, Kirsten Rachford, makes little architectural models that are so detailed and inspirational. I told Kirsten that I wanted to renovate this old bunkhouse to provide sleeping for my retreats. After visiting the farm, taking lots of pictures and such, she made this little model showing how our bunkhouse COULD look. 
Just so you can truly appreciate her imagination and talent, this is how the bunkhouse DID look when Kirsten saw it. It was originally built as a place for the kids to sleep with their friends.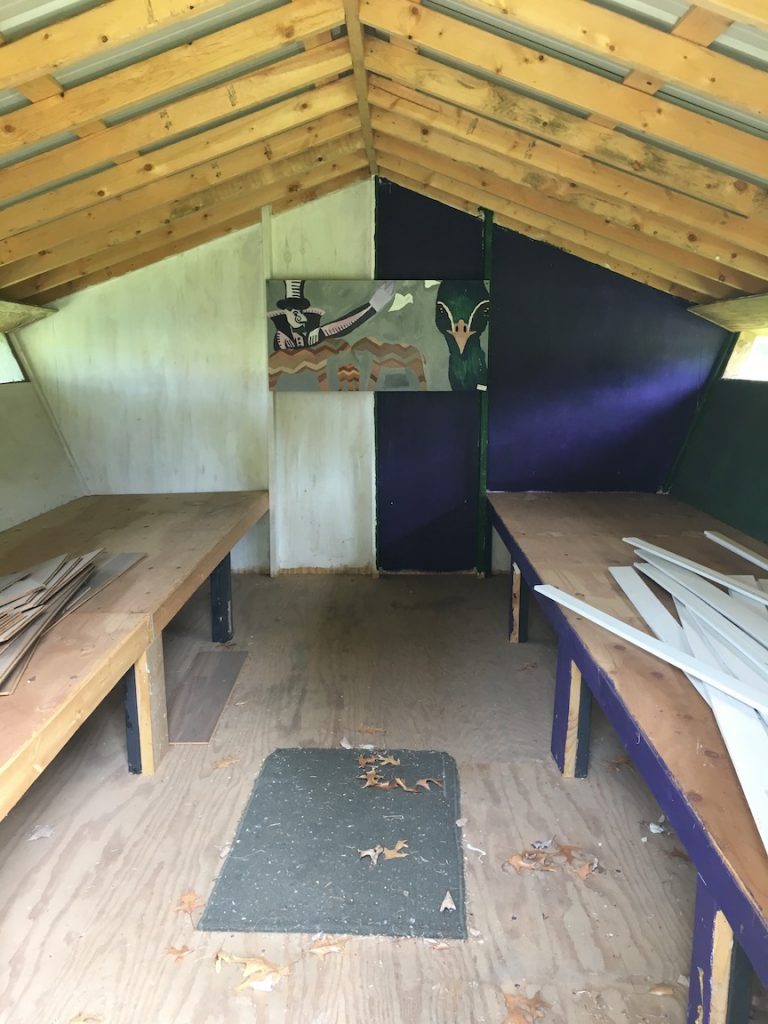 The kids did their own decorating back then. Eva got the left side, Sylvia the right. You can see they had a very different approach. I plan to dress up the platforms, put in a real floor, and do other updates that will brighten it up a lot.
Here is another view of Kirsten's model. It inspired me so much, I started working on it right away. The bunkhouse will be just one of the places yogis can sleep. It will sleep four on comfy mattresses with nice linens. I love the lights and the idea of a front porch. I have a great contractor signed on to do the big work, and we will make the front porch covered, so it can be even nicer.
As I said, we started the light work last summer. Eva did a super deep clean. Eva is the best cleaner ever. She is so detailed. I've seen her clean up the poopy floor of a horse trailer so well that you'd eat your lunch off of it. Really.
Here is Sprout supervising the work. Sprout is full of ideas, and great for moral support, but, frankly, she's not much for doing any actual work. We all know someone like that, I guess.
Eva, however, rocks. You can see that painting the walls and ceiling of this structure was no piece of cake, and Eva is still smiling. Apparently, Sprout tired herself out giving advice.
Even though Mike, the contractor, is going to add a porch and other renovations to the outside, I started painting. Here it is getting primed.
And, instead of army grey, the outside will be a nice, creamy color. Creamy, dreamy. 
Now, in case you thought maybe I was just sitting around, sipping mint juleps with Sprout, barking orders at Eva, (get it? barking?) here I am actually working. It looks kind of fun, doesn't it? Painting on such a beautiful day? Let's plan a work day!! 
Don't worry, Sprout. Nobody will take your job. Nobody does your job quite the way you do. Stay tuned for more updates!