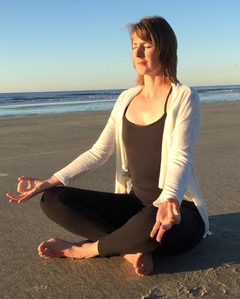 Yoga Passport is a unique Yoga Immersion and Teacher Training that I'll be co-teaching at FocusOm beginning in January, 2109. It emphasizes the ultimate goal of yoga: to connect with one's inner spirit. We'll explore not only the tools of classical yoga, such as asana, pranayama and traditional meditation, but more modern practices as well. Many current practices help create a state of "yoga", by quieting the mind, cultivating a healthy life, and connecting us to our own inner wisdom. This program offers a survey of many tools presented by many teachers, to broaden the students scope on their spiritual journey. If you'd like more details about this program, click here.
Freya has always been curious about ways that students with special conditions (such as recovery from injury or illness, chronic issues or limitations,pregnancy,and the like) could be fully participatory and completely challenged in their yoga practice. After all, she began her yoga journey with a fairly limiting wrist condition. Instead of listening to those who told her she wouldn't be able to do certain poses, she instead was determined to figure out just how she could still include poses in her practice. This determination has led to a passion for applying her creativity and knowledge of anatomy and conditions to help each of her students have a full yoga experience.
"My first yoga experience was in a class that I learned later was a very advanced class. I really struggled through the class and thought afterwards 'Wow! I might not be able to do yoga!' I didn't take another class for over a month. But, I knew there was something in this for me, so I made the effort to find another teacher who taught the level and alignment-based style that best suited me at the time. I just loved it and I was hooked!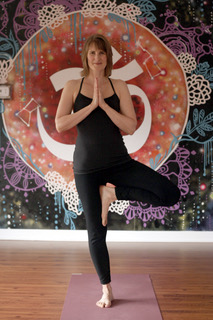 "My 200 hour teacher training emphasized a bit more of a dynamic, rigorous practice. Over time, I've studied with many master teachers from various yoga styles and was intrigued because I found I could also get just as much out of a slower, more static practice and still build strength and work on advanced poses. I've continued to learn and study with different teachers and have developed a hybrid style that blends together the best of what I've learned. 
"Because so much of my training emphasized alignment, when a student with a limiting condition comes into class, I don't feel intimidated. I think, 'Great! Let's find the best way for you to practice yoga right now.' I don't specialize in teaching students with limitations; I teach to a full range of all-level students. But, I find it particularly rewarding to help someone who has a limitation and is nervous about practicing to understand that yoga has many different modalities, props and alternate poses. If one thing doesn't work, there are many ways to keep them participating and achieving.
"I've spent years teaching group classes and private clients, and my eye for alignment has taught me so much about modifications. My thinking and teaching is always being adjusted and refined. But, if I'm uncertain, I always go back to two things: Intention – Why are we doing the pose? And Alignment – What do we need to do so we approach this pose with safety, strength and stability? With this mindset in place, people with conditions can practice side-by-side with people who have no limitations.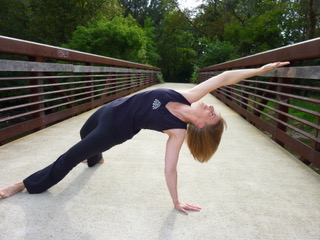 "My approach is very creative, but also well grounded in the science of yoga. I find that many yoga classes emphasize how hard they can push the limit, but I want my students to know that sometimes the beauty is in the mindfulness of pulling back. I look at the practice this way not only for my students, but for myself as well. I plan to practice for the rest of my life. As I research and experiment for my classes and clients, I'm also developing and learning tools that will help me."
Freya will be sharing these approaches and tools in our Yoga Passport program. Instructors and students alike need to know how to modify the practice as our bodies experience things like injuries, pregnancy, chronic issues in the joints, recovery from illness or surgeries, and more. As Freya says, yoga can be a great tool to help people function, enjoy life, and develop a practice that keeps them feeling their best possible selves, even in the midst of physical challenges.